See What Our Customers Are Saying
It's time to focus on the Handy Compact Tractors Customer Reviews and see how we've impressed our clients continuously since we opened our doors. Handy compact tractors has been trading since 2013 and right from the get go, we strived for perfection in every aspect of the services we provide as our reputation means a lot to us, but don't just take our word for it, lets see what our customers have to say about us…
Handy Compact Tractor Ebay Reviews
We have sold many items and parts through eBay always aiming for quick dispatch for delivery and it really goes to show looking back at the feedback our customers have left for us to read.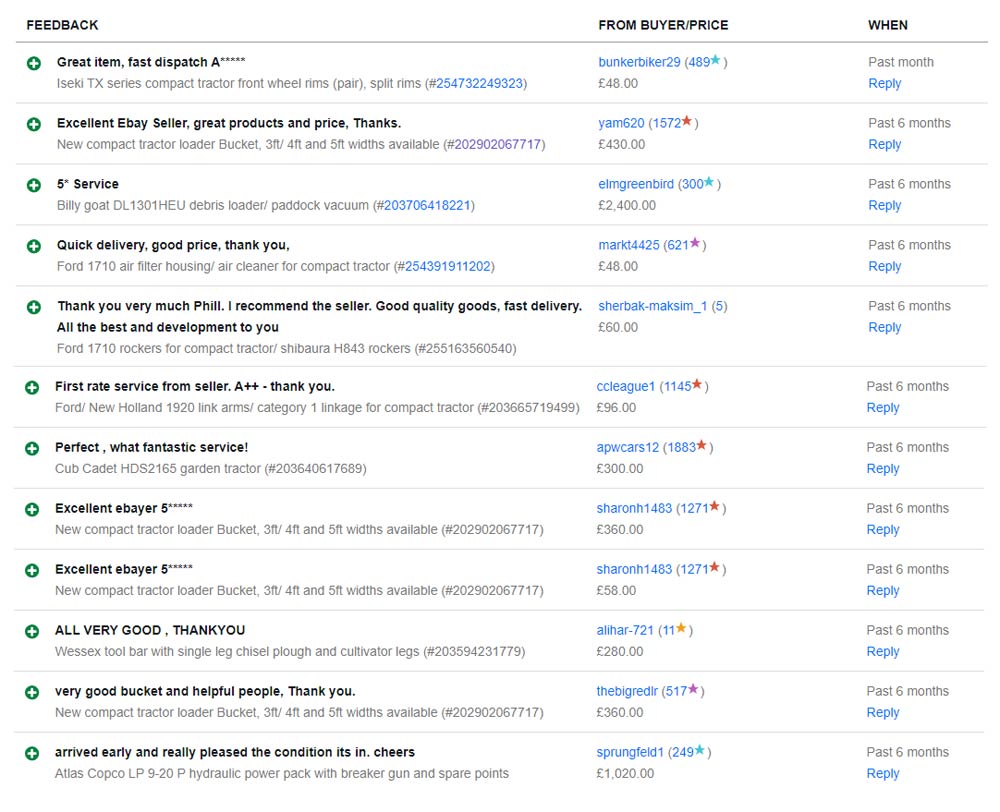 Great Welding Job Just Before Xmas
In December 2021 we carried out one of our regular task's to fabricate and weld brackets to the buckets we supply, we was unsure whether the customer would get the bucket in time before Christmas but with the measurements required provided by the customer, we were able to complete the task with ease and was lucky enough to get it to the customer just before the couriers shut down for the Christmas period.
Parts Sold The Right Way
Two of our parts sales after the customers had fitted and tested them for themselves and was happy with the result.

We Make Fabrication Jobs Look Effortless
Simon Is one of our new customers that came to us towards the end of last year with a project for us to fabricate an electric opening gate frame and fitting the runners and rack (for motor to open/ close the gate) to. Clearly he was one happy customer with the end result.
We love to hear feedback from our customers whether it be good or bad, We will always aim to keep our customers happy, going the extra distance no matter what it takes even after sale or when job is expected to be completed. The Handy Compact Tractors customer reviews speak for themselves and you can see that we keep our clients happy and coming back for more!
For Compact Tractors, Welding & Fabrication, or to just discuss your needs, contact us today!